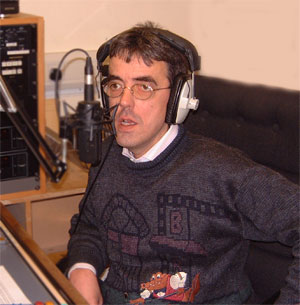 I was born in Hull in 1961. The Clovers moved to Sheffield in 1966. I was educated at Silverdale Comprehensive School. I was a chorister, head-chorister and songman at Sheffield Cathedral. I started private singing lessons with Vivien Pike at the age of 17, gaining Grade VIII and progressed to Trinity College, London at the age of 21. At Trinity, I studied singing with Eric Vietheer and Anna Berenska as well as piano with Valda Aveling.
For 27 years until September 2013, I was (senior) Layclerk with Ely Cathedral Choir. During those years I sang in many of the great cathedrals and churches of England, Europe, Canada and the USA. I was a co-founder of the close harmony group 'shades of blue'. I have made numerous appearances on Radio and Television. Until September 2020, I held the position of Technical Manager with Ely Cathedral dealing with electrical/mechanical items, the Cathedral sound and light systems, computer networks and Cathedral website.
I currently maintain other websites, the most important being David Clover Festival of Singing and also Radio Addenbrooke's.
Now semi-retired, I work as a Media/Graphics Designer and Web Developer.
My hobbies include radio broadcasting; presenting a weekly Sunday night radio request programme for the Hosptial Radio station - Radio Addenbrooke's in Cambridge. Over the years I have had close links with Radio Hallam, BBC Radio Sheffield, CNFM (now Star Radio) and BBC Radio Cambridge.
Interests
Music
The Church
Cooking
Food
Photography
Aviation
Amateur Radio
Radio Broadcasting
Jingles
IT
Gadgets
James Bond
Gerry Anderson
Flight Simulator
Model Railways OO, G scale
Backgammon
Favourite Composers
Bach
Mozart
Vivaldi
Fauré
Duruflé
Messiaen
Thomas Tallis
Byrd
Robert White
John Sheppard
Vittoria
Elgar
Vaughan Williams
John Barry
John Williams
Howells
Debussy
Favourite Movies
Any James Bond
Angels and Demons
Once Upon a Time in America
Die Hard s
Mad Max s
The Sound of Music
Casino
True Lies
Scarface
Batman Begins
Mission Impossible s
Speed
Face/Off
The Italian Job Caine
The Godfather s
The Life of Brian
Airplaine
anything by The Marx Brothers
Favourite Artist(s)
Walter Carlos
Take 6
Michael Jackson
Stevie Wonder
Simply Red
Genesis
Level 42
Dire Straits
Quincy Jones
Grace Jones
Earth, Wind & Fire
Manhattan Transfer
Barry White
Jean-Michel Jarre
Supertramp
Gloria Estefan
many others...